A gig at the Jazz Loft in Jim Thorpe, PA.  A beautiful venue.  Come to enjoy everything offered.
Thursday, December 2, 2021  7:PM  - 268 W Broadway, Jim Thorpe, PA 18229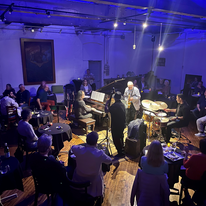 From Jazz Loft at The Stabin Museum 
"The Jazz Loft at the Stabin Museum is a very intimate jazz venue in a vaulted 19th-century wireworks factory. It's a great place for jazz musicians and jazz connoisseurs alike. Aesthetically stunning throughout, this is one of the absolute best places to experience live music in the round."